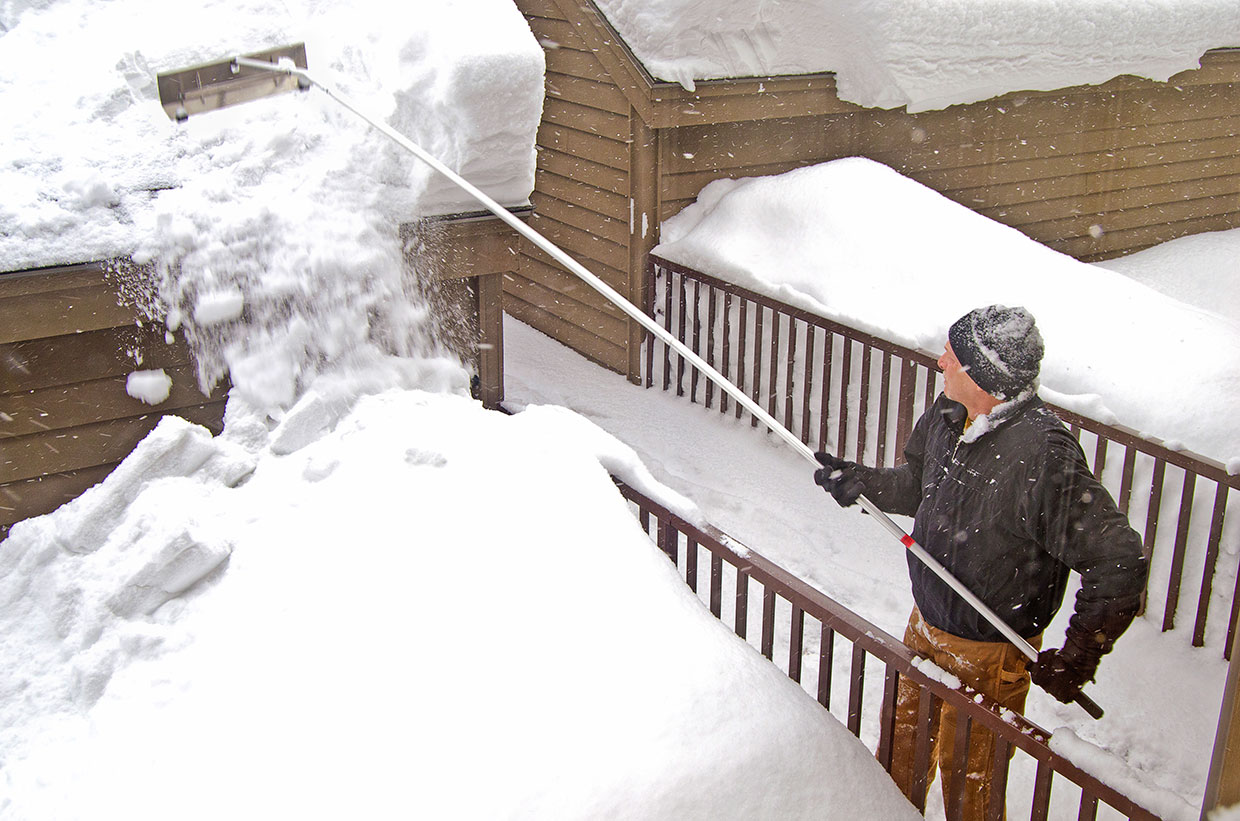 Prevent Roof Damage With Heavy or Wet Snow – Prevent Leaking Roofs with Our snow removal
December 16, 2019
Roof Snow Shoveling – Don't let snow sit on your home another month; this can cause expensive roof repairs in the Spring
February 9, 2020
Ice Dam Removal – Ice Dams are Dangerous and can cause Home or Business Damage to Siding, Gutters, or even Bodily Injury.
Ice dams can be very hazardous to your home or business. They can also cause injury if not removed safely. Ice dams are a common occurrence in the Park City area, because of our harsh winter weather. Below, Park City Roofing will explain ice dams and how they can damage your property.
What is an Ice Dam?
Ice dams are large layers of ice that grow larger over time. Ice dams form as heat escapes your roof; this can occur from fireplaces and regular heating of your home. As the ice and snowmelt, it refreezes. This caused sheets of ice to form near the edges of your roof and gutter. Snow and ice will continuously melt and refreeze, becoming trapped. The blocked water has nowhere to go, so it instead can seep into your home and cause water and structural damages.
What can Ice Dams Damage?
Ice dams can quickly cause significant structural damages to your property. The water not only causes water damages and mold, but it can damage different parts of your home. Ice dams generally damage your roof, but it can also damage siding and gutters. Water can move quickly into your attic, down your walls, into your siding, and even gutters. Ice dams are heavy sheets of ice and should be removed by professionals, as they can cause severe bodily injury. Large sheets of ice are unpredictable and can break off, sliding off of your roof and gutter. This can cause injuries to people on your property, as well as damages to your home or business, including your vehicle.
If you notice a large sheet of ice on your roof, it is crucial to contact Park City Roofing. Our roofing specialist is trained and certified to safely remove ice dams and heavy snow from your home or business roof. You must monitor the weather and your property during the winter. Winter weather can cause significant damages to the siding, roof, and gutters of your Park City home or business.